The coronavirus has brought unprecedented changes to our lives as people practice social distancing to 'flatten the curve.' Many people are turning to the health benefits of native plant medicine to strengthen their immune systems during the pandemic.
We've experienced a growing interest in many of our native and medicinal plants. For those with the privilege of Earth to plant in, you can grow these plants yourself and make your own medicine! (see the links in the text below.)
We've highlighted a few of our most effective natives in this power-packed anti-viral elixir, useful for respiratory infections, coughs, colds, and more.
_________
Ingredients:
-100 g dried elderberries
-10 g dried nettle
-10 g dried mallow root
-5 g dried mushroom (turkey tail, reishi, etc)
-5 g dried rose hips
-30ml lomatium root tincture
-30ml balsamroot tincture
-1-2 quarts cold distilled water
-1 1/2 cup thick, liquid sweetener such as honey
Instructions:
Combine the berries, leaves, roots, and water in a large (cold) sauce pot. If time permits, allow the berries to soak until they are soft, about 30 – 60 minutes. Place over medium heat and gradually bring to a boil. Once a rolling boil has been reached, reduce heat to a simmer and continue to cook for 30- 45 minutes, stirring frequently. Do not cover the pot during this phase. (This process cannot be shortened as it is crucial for eliminating a cyanide-like toxin in the seeds!) Remove from heat and cool to room temperature.
Strain the concentrated extract and measure the liquid. It should be approximately 2 cups. (If you have less than 2 cups, water can be added to reach 2 cups. If you have more than two cups, continue boiling the mixture down. It can be important to have a 2-cup measurement at this state if you're seeking consistent dosing.) Combine with the cup and a half of honey, brown rice syrup, glycerin or simple sugar solution. Bring back to a boil and continue to boil for 10-30 minutes until the mixture is thick. We like to use a raw honey, and in some cases you may choose not to over-heat or boil the honey to maintain the benefits of its natural state. Allow the mixture to cool slightly and add the tinctures. The alcohol can help to stabilize and extend the life of this elixir, or if you add it while still warm the alcohol will evaporate, leaving behind the medicinal contents of the plants. Finally, pour into prepared bottles and store in the refrigerator.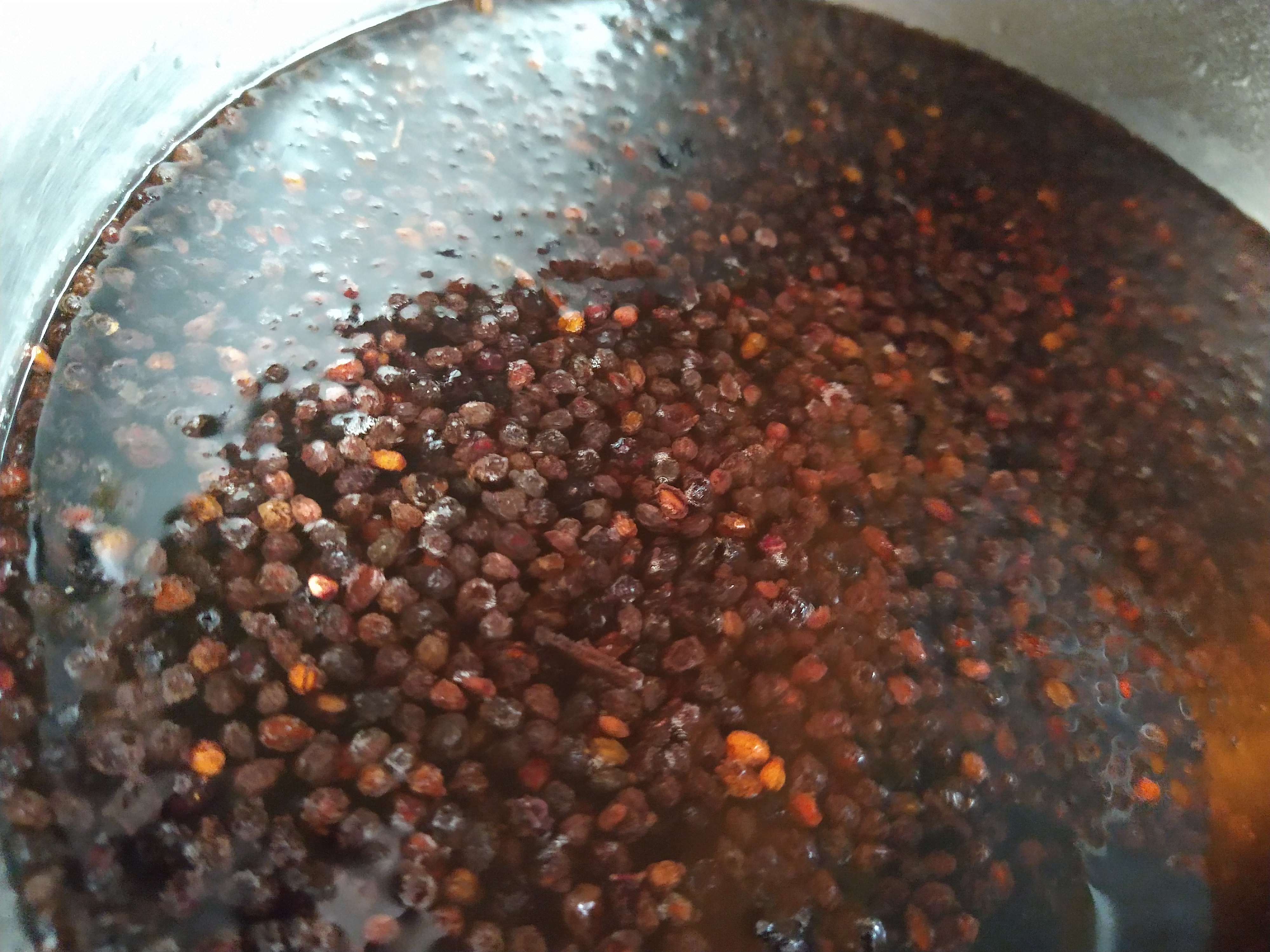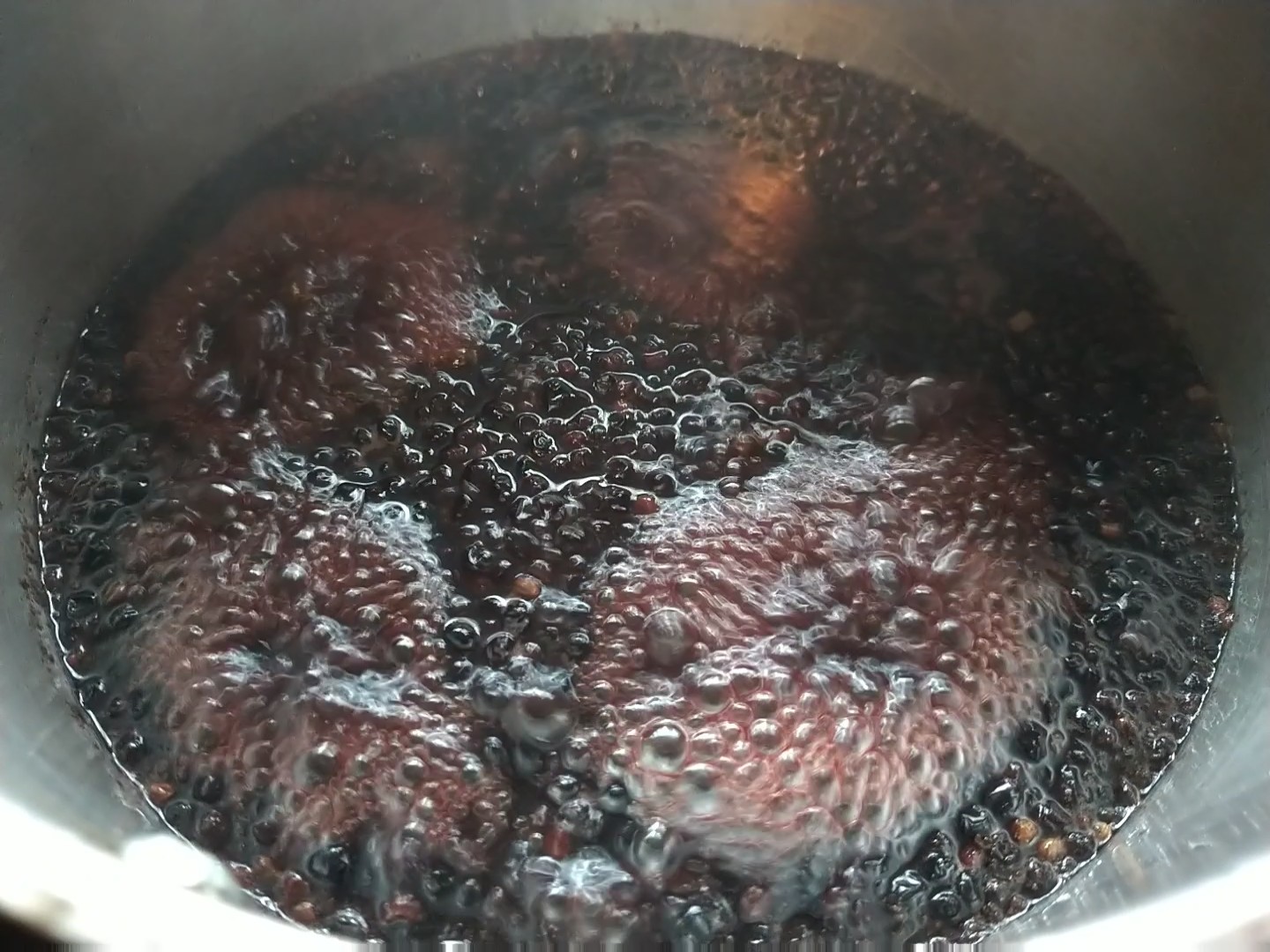 ___________
About Elderberry Syrups:
For this recipe, we've chosen to combine a number of different methods to maximize the effect and impact of this elixir. For those of you unfamiliar, an elixir combines the elements of decoction (boiling the elderberries and herbs to make a tea), and alcohol extraction (steeping the balsamroot and biscuitroot in ethanol to make a tincture). We're using raw, local honey as a carrier and to balance the rich, earthy, and bitter flavors from the other medicinal plants.
Elderberry has some incredible, powerful, antiviral properties. The berries and flowers of elderberry are packed with antioxidants and vitamins that may boost your immune system. They could help tame inflammation, lessen stress, and help protect your heart, too. Some experts recommend elderberry to help prevent and ease cold and flu symptoms. During these interesting times this could be a powerful addition to your personal resilience practices! When you're experiencing symptoms, you can take one tablespoon every four hours for three to four days.
___________
We've paired the base of Elderberry with some of our other super star native and medicinal plants.
Nettle is in the Urtica family and has many wild and cultivated relatives. It is a significant blood-builder, robust with mineral and vitamins to fortify the system. Nettles are antioxidant and anti inflammatory, which will both help your immune system and nervous system. (It can also help to reduce allergies!) Nettle makes a great tea on its own, either fresh or dried. Just be careful handling it until it's dry!
Mallow leaves and root, from a flowering plant that has played a role in herbal medicine for centuries. The high mucilaginous content of mallow may make it a useful remedy for treating coughs and colds. It can be used for pain and swelling of the mucous membranes that line the respiratory tract. Studies have found that an herbal cough syrup containing marshmallow root was effective in relieving coughs due to colds, bronchitis, or respiratory tract disease.
Fernleaf Biscuit Root, or Lomatium has been used historically by Native Americans, mostly as a treatment for respiratory illness. It is considered antiviral, antibacterial, and antiseptic and is commonly used by naturopathic physicians. It can be used for lung problems, bad fevers and pneumonia, and there are many references to its value for persistent winter fevers. Lomatium definitely helps simple head colds and shortens the duration of overt influenza viral infections. However, be aware and limited with over use of this resinous herbal root as some people can have a rash reaction.
Balsamroot flowers are browsed by deer and other wildlife, and nearly all parts of the plant have been consumed by various Native American tribes: the flower stems can be peeled and eaten, the seeds are nutritious and oil-rich, and the root can be steamed and eaten or dried and pounded into flour or used as a coffee substitute.
Balsamroot acts as a disinfectant and expectorant. Like Echinacea, it may also stimulate white blood cell activity. Balsamroot's dried or fresh root can be used to produce a tincture which, when added to warm water, tea, or juice, helps soothe sore throats, loosen phlegm, and boost your immune system. And you can create a fairly decent cough medicine!
Some other medicinal elements that have significant benefits in this blend:
Turkey tail is a medicinal mushroom with an impressive range of benefits. It contains a variety of powerful antioxidants and other compounds that may help boost your immune system and even help fight certain cancers. Plus, turkey tail may improve gut bacteria balance, which can positively impact your immunity.
Rosehips are included here for their incredibly high Vitamin C content. They also can help support a healthy immune system, reduce pain and inflammation, and aid in heart conditions.
We hope that these plants give you some ideas for personal support and health in the coming days, weeks, and months. It's an important part of our mission to empower everyone for independence and resilience while rebuilding connection to people, place, and planet. We believe that by restoring native and indigenous ecosystems with these plants we can bring our own health and the planet's health back into balance.
With love from all of us at Native Foods Nursery!
_____
Written by Dietrich McGaffey
Dietrich is a traveling chef, and herbalist based near Eugene, OR. You can follow him on Instagram at @botanicayoga and @ediblealchemyfoods