Springbank Clover Kimchi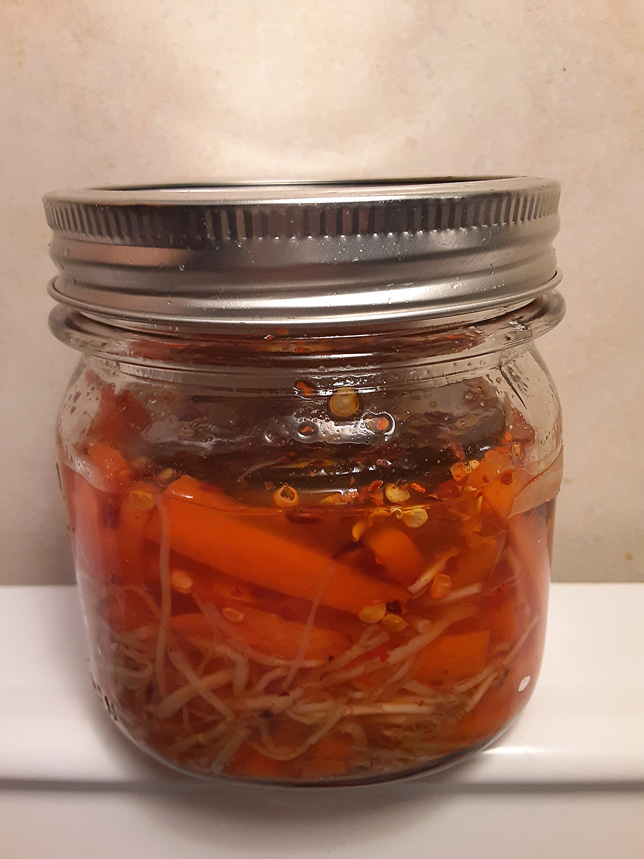 Overview
Ingredients
Prep Time: 1 hour
Ferment Time: 24 hours

Yields one quart jar.

Springbank Clover Rhizomes 2/3 of the volume
Julienned carrots and/or radishes 1/3 of the volume
Garlic - 2-3 cloves or 1 teaspoon minced
Chili flakes 1-2 teaspoons per quart
Fish sauce 1-2 teaspoons per quart
Salt 1 1/2 tablespoons
1/4 cup mushroom broth or water
1 teaspoon peeled and grated fresh ginger



Springbank Clover rhizomes can be easily made into a tasty ferment. The thick white runners have a delicious nutty flavor which is strongly reminiscent of mung beans. This simple recipe only needs to ferment for 24 hours before being eaten.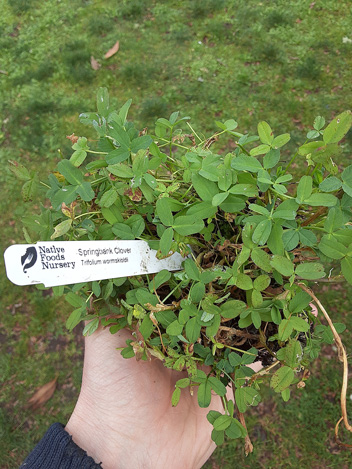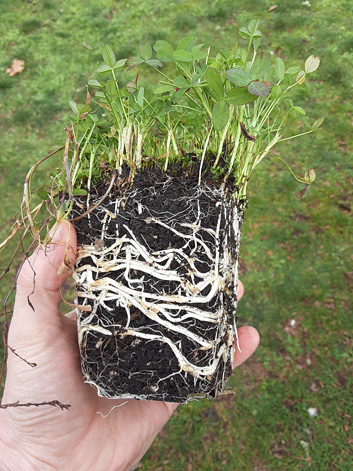 (We also fried some of the rhizomes alone in butter. This method of cooking was very tasty, especially with the bigger, juicier rhizomes. However, the smaller rhizomes were not softened enough by the heat and remained tough to chew. Perhaps smaller roots would be best used to make vegetable broths and added to any stock recipe.)
Thoroughly wash and dry the clover roots, select for the largest and thickest roots for the best results.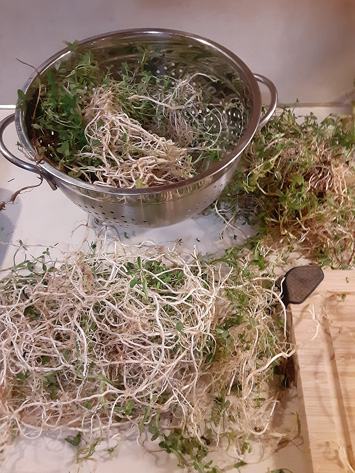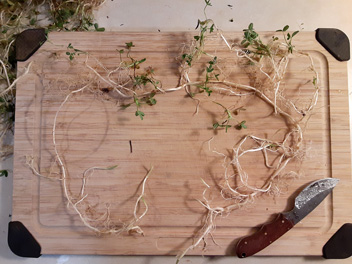 After they are washed and dried, I julienned carrots and added them to the shoots for some extra volume and crunch. I think radish roots would also be delicious in this recipe if you have some handy. Take the rhizomes, carrots and any other veggies and salt them well and set aside for an hour.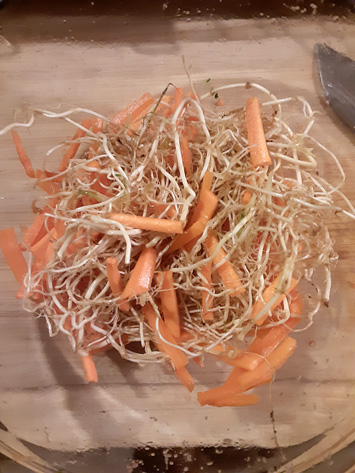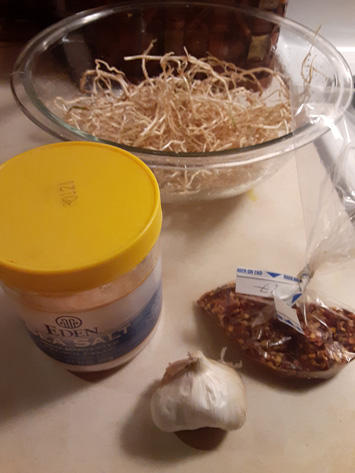 In a small bowl mix up your preferred kimchi recipe. I like to use garlic, Korean chili flakes, fish sauce and salt. If you have bone broth or mushroom broth you can add a ¼ cup per quart of kimchi. Set aside after mixing for one hour.
Rinse the veggies and mix with the kimchi sauce in a mixing bowl. Put the mixture in your preferred fermenting vessel and press down until the top is covered, you may need to add a small amount of water to finish. Weight the kimchi down and leave out at room temperature for 24 hours. It will stay good for over a week in the fridge, and much longer if kept submerged.
We added the kimchi to a venison/bolete dish and it was absolutely delicious. Later it was also used to make a delicious grilled kimcheese sandwich, use it in whatever ways you like to use kimchi, let us know if you do!